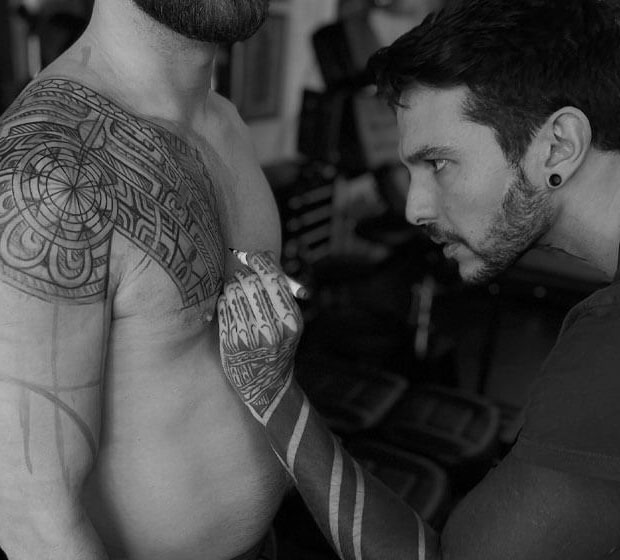 Niccolo Casati
Tribal inspired tattoos in the center of Eindhoven, The Netherlands
Book an appointment
I tattoo the body as I model a sculpture
Interested in drawing and artistic practices already at an early age, I attended the school of Sculpture at the Academy of Fine Arts of Brera in Milan.
In parallel with the sculptural activity I found many points of contact with the practice of making tattoos, which are what prompted me at the end of my academic studies, to undertake this new practice.
My concept of tattooing is in fact that of shaping the body just as I do with a sculpture, working on the volumes and anatomy of the subject with whom I relate each time, in a unique and unrepeatable way. In fact, my tattoos, inspired by the tribal, reinterpreted in a modern and sometimes ornamental way, develop almost entirely freehand, directly on the skin of the subject.
After about 2 years of traveling and guestspots around europe I decided to settle down in the Netherlands. There I had the opportunity to meet some great artists and develop my skills by working with them. I have been tattooing in different shops along the country, including Dragon Tattoo and Seven Seas Atelier in Eindhoven.
Recently I started a collaboration with my colleague Martin, opening up a private studio, Liberation Tattoo Shop. Located in the center of Eindhoven, the studio is only for customers who already have an appointment.
About Polynesian Tattoos